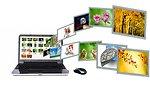 Note: We may embed some sponsored links that can earn us a commission to defray operating costs for this website.
Yes, You Can Become a Paid Writer At Home
Let's just say that you're here because you need to earn extra money or work from home. However, you're not exactly sure what skills you have that can help you serve paying clients. If you're reading this and like to read, it's a good bet that you could easily gain the skills that you need to write for the web. In fact, you may already have them. Either way, you might explore the idea of becoming a freelance writer.
Who Are Freelance Writers?
Before you run off and say that you couldn't possible write for money, you should consider some statistics about the average freelance writer. These were gathered from a survey on a major freelance writing website.
You can refer to the link above for even more statistics about paid writers, but here's some encouragement:
Gender: About two out of three freelance writers are women, and the rest are men.
Motivation: Most freelance writers got started because they simply needed to make more money and not because they had special degrees or experience.
Education: Surveyed writers had all sorts of levels of education, from high school to advanced degrees.
How Much Money Can You Earn As A Freelance Writer?
You've probably already seen promises of 6-figure salaries for freelance writers. It's not unheard of or even that rare for an experienced writers to earn over $100,000, but it's unlikely that a novice will make that much unless they are already a celebrity or known expert. To be honest, novice freelancers might hope to earn $10 to $15 an hour in the first few months.
Where to Begin With Your Freelance Writing Career
The keys to earning a higher part-time or full-time income include a drive to succeed, skill development, experience, and of course, clients! The internet has created a demand for writers at all different levels, but the more you know, the better you'll do. To learn more about several different real opportunities to earn money as a writer, you might want to begin with the helpful folks over at WritingMoney.biz.